We're honoured to be included in this year's Krampus Ball 2019! So don those horns and come rock out with your fav demons!
The 8th Annual Alternative Xmas Costume Party in Toronto
*Think Halloween at Xmas time!
ADVANCE TICKETS — http://krampus2019.eventbrite.ca
GROUP DEAL for 3 or more bought at once. Click Link…
☆ $40 @ DOOR night of the Ball.
FREE PARADE (all ages) 9 PM . Doors (19+) 10 PM
MUSIC ACTS————–
SQUID LID
A Primitive Evolution
Remedy – http://dnbremedy.com
Phantom High
Inchoate – http://bandcamp.com/–inchoate–
PERFORMANCES——–
Krampus Kabaret hosted by Zel Tyrant – Artist; Circus
Monster stilts by Circus Drummer
Naughty or Nice by Kinsfolk
Live painting by Shinoby + Eglea
Body Painting by Natasha Kudashkina
Ariel Cube by Miranda S Tempest
Dance by LOS LOBOS
Ghoulash by Megan Hamilton
Light Whips by Maia Friedlander
Jack Frost by Cosmin Negreanu
Turkey Lurkey Time by Lavender Sunshine
• Trademark Foto-Forest
• Hundreds of fellow Ballers in Costume!
• Zirco Fish walk thru Mural Gallery
• Online Costume Contest post party ☆
☆Dress to impress, or dress comfortable to voyageur…
costumes encouraged, NOT mandatory ♡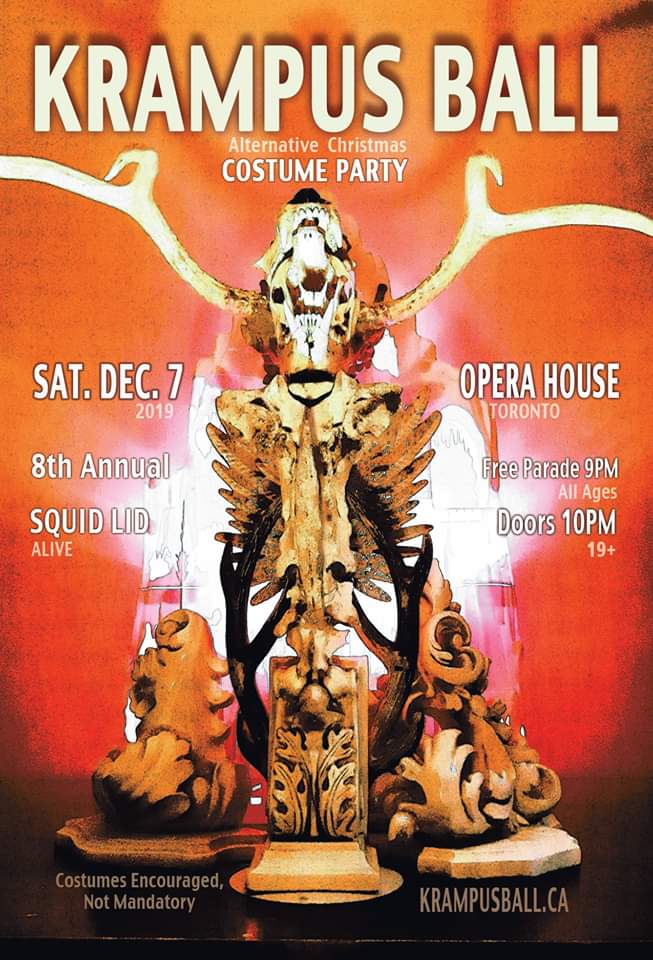 ---